Retaining Walls
Contract: Gabion Retaining Wall Telford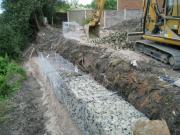 This contract involved retaining the rear area of the property that had collapsed down a 5m embankment.
The client's house was dangerously close to the edge and so it was imperative that the works were carried out both quickly and with great care.
This contract had limited access allowing the works only to be undertaken from the top.
We excavated the existing block wall and mass poured a 20m approx concrete foundation and placed large Gabion Baskets on top, backfilled and relandscaped.
Garvey Developments Ltd also have experienced Construction Staff and employ Personnel for Concreting(See Structural Work Section) and Quality Bricklayers, enabling the Company to Construct most types of Retaining Walls.